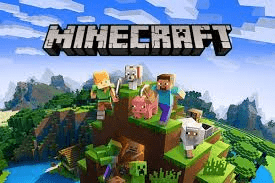 CS103:
Intro to Game Design with Minecraft
Game Design

Level 1

Hardware/Software Required?



You will need a PC or Mac computer, webcam (Preferred not required), high-speed internet connection as well as a headphone with a mic. You will also need to purchase your own copy of Minecraft Java Edition at minecraft.net (under $30 one time fee). You can purchase it at Minecraft
Course Description
Minecraft is a 2011 sandbox video game created by Swedish game developer Markus Persson and later developed by Mojang. The game allows players to build with a variety of different blocks in a 3D procedurally generated world, requiring creativity from players. Other activities in the game include exploration, resource gathering, crafting, and combat. Minecraft requires critical thinking and creativity throughout the game. Students will learn how to think logically by creating devices and logic gates through the use of Minecraft Redstone. This course focus on game design part of Minecraft where minimum coding is involved. If you are more interested in learning how to code in Minecraft, please check out our advanced Minecraft Programming with Lua course. There is no need to take this course before your child can take the advanced course.
Course Outcomes
Create basic logic gates
Use logic gates to create redstone inventions
Produce useful contructs that aid gameplay to encourage learning
Improve their critical thinking skills as well as creativity
Have fun!!
FAQ