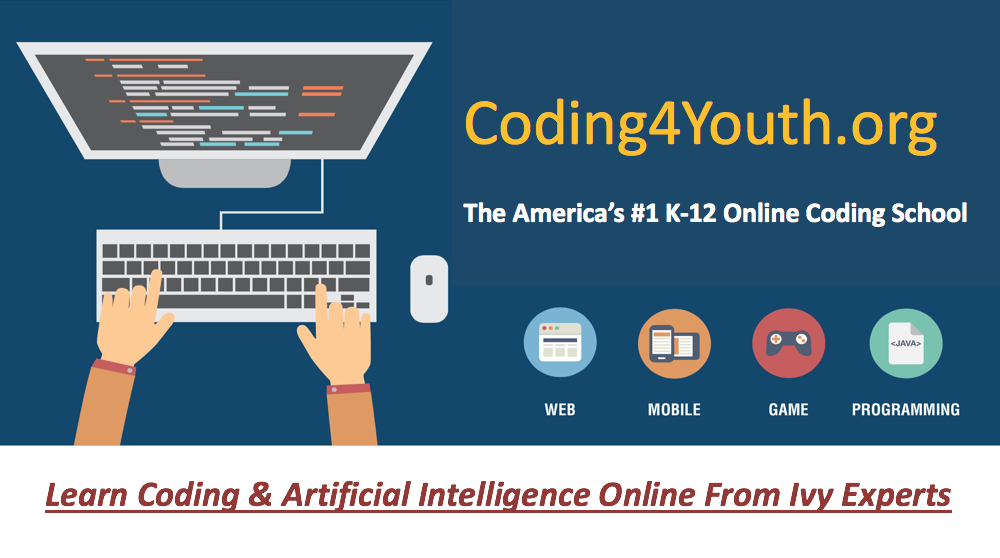 CUSTOMER REVIEWS
My son, Daniel completed Java 1 with Vinh and LOVED it! Daniel is a boy of few words and RARELY asks to pursue the next level of a course, especially if it's hard, but he said, "I"m missing Java programming. Please sign me up for Java 2. And I want Vinh Doh as my instructor. He was great!" I understand Vinh isn't available for Java 2, but I must let you know how much Daniel enjoyed and appreciated Vinh's instruction. Vinh held Daniel's interest and taught him well. What Daniel especially appreciated (as did we), was Vinh's generous extension of time on the last day of class, helping Daniel an additional hour teaching Daniel about setting up a server (I think) on Minecraft. In any case, after each session, Daniel was so excited about what he'd learned; he felt a sense of accomplishment and Vinh made learning fun. Thank you, Vinh and Coding4Youth for showing Daniel that learning can be FUN!!!
Terri Bookbinder - Mother of 10th Grader, Orinda CA, Miramonte High School
Our son, Eric, took CS203: Introduction to Java in early July. He wasn't too sure about taking an online coding class. Well it ended up being a wonderful experience. His instructor, Mario Harper, was fantastic with him. Since Eric was the only student, Mario was able to move the class along as Eric was progressing quickly. Eric had a blast learning code and designing his own video game. What really amazed my husband and I is that Eric brought his laptop along on vacation and worked on his game after the class had completed! Mario helped open up a whole new world to Eric! We are going to sign Eric up for another class this summer!
Katie Edlund - Mother of 9th Grader, Dublin CA, Dublin High School
---
Our son, Ty, really enjoyed his class and his professor. We loved the one on one attention he received. His Professor was very knowledgeable and patient. He was able to connect with Ty so that he understood what he was learning and how to accomplish it. We would hear our son completing his homework in the evenings and cheering "yay" when he would figure it out. This is an amazing program and we look forward to signing up for more classes.
Tina - Austin, TX , Canyon Ridge Middle School
Our teacher was Saad Mallick, and we were really satisfied. Joelle was looking forward to it every week. Saad was really patient, and he could explain the content very well to Joelle….After the lesson he gave feedback, so we could read about what they had been doing. He was always right on time, and send an email earlier the day of the lesson, which was a good reminder.
Jeanet - Parent of a 1st Grader, San Ramon CA, Golden View Elementary
My son (Peter) is in Grade 10. He really enjoyed the CS107 class at coding4youth. The online face to face video lesson worked well for him. The teacher was responsive and proactive. I would be interested in enrolling more class for him in the future.
Sangita Majmundar - Mother of 10th Grader, Danville CA, San Ramon Valley High School
My son attended 2 classes this summer and really enjoyed it. The remote access, flexible time slot, small class size and great instructor made it an ideal choice. He is entering the 7th grade and there are not very many summer options for teenagers so this was great. We would definitely consider it for next year.
Jodi - Folsom, CA, Folsom Middle School
My son really enjoyed the Intro to Java class. When he gets back in July we will enroll him into the next level of Java.
Zubeda Adem - Parent of an 8th Grader, Redmond WA, Rose Hill Middle School
The initial course we enrolled was to easy as my son played a lot of minecraft already. But I am glad Coding4youth let us switch to the advanced course and my son really enjoyed learing ComputerCraft in it.
Toshia Phelps - Parent of a 3rd Grader, Lake Stevens WA, Sunnycrest Elementary
We liked the minecraft class. Might come back after Summer.
Francine Park - Parent of a 2nd Grader, Kirkland WA, John Muir Elementary
Our son really enjoyed it. Everything went very well. We will keep all the information for future enrollments.
Paige Nelson - Parent of a 4th Grader, Kansas City MO, Shoal Creek Elementary
My husband is a software engineer and he felt the course content was at the level it is supposed to be. It was a little advanced for my son, but he still enjoyed it and learned a lot.
Lynda Hounshell - Parent of a 1st Grader, San Ramon CA, Quail Run Elementary School
My daugter did well in the advanced Scratch class. Might consider do another course soon.
Navjyoti Sharma - Parent of a 1st Grader, Livermore CA, Sunset Elementary School
The scratch and minecraft courses were great. They were a little challenging at the beginning but it went pretty well later.
Jenny Fouquette - Parent of a 6th Grader, Cedar Park TX, Henry Middle School
The course went great. My son really enjoed the instructor. We are planning to enroll into advanced Java at some point in the summer.
Michelle Mugge - Parent of a 7th Grader, Phoenix AZ, Canyon Springs School
The Java course and the instructor were fine. I will definitely consider enroll another course in the future.
Deborah Chapnick - Parent of a 7th Grader, Woodinville WA, Environmental and Adventure Middle School
Kai (my son) was having lots of fun with the Game Design class this summer. It's his first time doing this kind of course online with a real person. It worked surprisingly well. I might consider enroll my daughter for a Java class later.
Kerry Ray-Chaudhuri - Mother of 6th Grader, San Ramon CA, Pine Valley Middle School
Thank you for the note. We are happy with Caleb's experience...Overall, it worked out great and he had a great time learning more. Thank you to Anthony.
Emily - San Diego, CA , Shoal Creek Elementary
INSTRUCTOR NETWORK
Every member of our instructor team has real-life experience using as well as teaching their subjects
Every instructor is fully equipped to teach, mentor, and inspire the younger generation who rely on us for inspirational tech education and computer science skills
Every instructor is skilled at tutoring in our online learning system and helping students understand concepts through live lessons, pair programming, performing code reviews, answering questions, and discussing best practices with them as they progress through the course
Every instructor is vetted through a rigorous screening process with subject exams, mock tutoring sessions, team review and third-party background check
Our team includes students and graduates of Bachelor's and Master's Degree in Computer Science or Computer Engineering from Accredited Institutions such as: