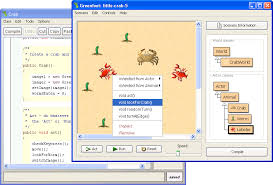 CS203:
Introduction to Java Game Programming
Course Description
This course teaches Java programming in an interactive and engaging way that is technically relevant, and highly motivational for students through Greenfoot. Greenfoot is a Java Integrated Development Environment (IDE) created to help students learn how to think logically and implement that logic in a practical way without getting bogged down by all the technicalities of modern IDE's and programming languages. It allows easy development of two-dimensional graphical applications, like simulations and interactive games. Using Greenfoot, students learn the Java programming language in a fun, interesting, and visually engaging way! 
        
Along the way, students will use Greenfoot to write standard Java syntax, master object-oriented programming terminology and concepts such as Functions, Algorithms, Compiling, Debugging, and Control Flow. Learning can be fun in of itself, however, we do not want to fill the students head with information without them understanding the practical application of their new found knowledge! By the end of the class they will have a chance to demonstrate this knowledge and skill by creating games, and/or simulations that interest them. Here at Coding4Youth, we strive to not only give them a great educational experience, but we also want them to have fun in the process!
         
The first class session will cover software installation, configuration, and introductions.
FAQ